iHome Bullet Blender 21 Pcs Deluxe Set (i-B21)
Product details of iHome Bullet Blender 21 Pcs Deluxe Set. Model: i-B21
Before using your Deluxe Bullet Blender for the first time, rinse all the parts except for the power base in warm soapy water. Rinse and dry well thereafter.

Contents Usage:

Tall Cup & Short Cup: These cups are used to mix, cook and store your ingredients. They are dish washer safe (top rack only) and microwave safe


4 X Party Mugs and Comfort Lip Rings: These party mugs turn your bullet blender into the ultimate party machine. You can make and serve frozen party drinks right in the same mug. They even come with coloured comfort lip rings to cover the threads and let you know whose drink is whose. These party mugs are NOT dishwasher and microwave safe.


High Power Base: The bullet blender's power base is the heart of the blender. Simply place one of the bullet cups or party mugs onto the high torque power base and press. Nothing could be easier. DO NOT submerge the power base in water and always unplug the Safety Mark Approved 3 Pin UK/SG Power Cord before cleaning it. Strictly not to be placed in dishwashers and microwaves.


Cross Blade and Flat Blade: The cross blade is used for chopping, grating and blending foods such as onions, cheese, meat and frozen drinks. The flat blade is for whipping cream and grinding hard tools like coffee beans and spices. Both blades are dishwasher safe. Both blades are NOT microwave safe. There is a plastic gasket that creates an airtight fit with the party mugs, short cup and tall cup. After washing the blades, check to make sur ethat the gasket is still inside as the heat from some dishwashers can cause them to become loose. Our advise is to avoid using the dishwasher at all times. Do note that both blade assembly are NOT microwave safe.


Bullet Blender 1 Litre Jug and Lid:  This full sized attachment has all the power and capacity (1.0 Litre) of an expensive and conventional blender, but this bullet blender costs a lot more lesser and takes up as much counter space as a coffee mug. Us eit anytime you need to whip up family size batches of milk shakes, smoothies cocktails, etc. The 1 litre jug comes with a pop top lid slipping in ingredients while the motor is running, mess-free. Both jug and lid are NOT dishwasher and microwave safe.


Bullet Blender Juice Extractor Kit (2Pcs): The 2 pieces, extractor and plunger, transforms your blender into a high power juicer. It does the same job as those large and expensive ones found in stores, but unlike the big and bulky ones, the bullet blender produces juices in seconds and cleaning it takes just about the same few seconds. Both pieces are dishwasher safe but NOT microwave safe.


Shaker & Steamer Tops: Two handy shaker / steamer tops are used for steaming foods in the microwave or as shaker tops. The top with the large hole is for coarse ingredients such as Parmesan Cheese. The other is for finely ground spices such as cinnamon, nutmeg, etc. Both tops are NOT dishwasher safe. Both tops are microwave safe.


Stay Fresh Resealable Lids:  You can prepare, cook and store your food in the very same mug. No plastic wrap or storage containers are needed to keep your leftovers fresh. The stay fresh resealable lids fit right on the short cip, tall cup and party mugs to keep leftover fresh for days. The Stay Fresh Resealable Lids are NOT dishwasher and microwave safe. 


Important Information: DO NOT OPERATE THE BULLET BLENDER MACHINE FOR MORE THAN 1 MINUTE AT A GO. ALWAYS HAVE BREAKS OF AROUND 3 - 5 SECONDS IN BETWEEN EACH BLOCK OF 1 MINUTE THIS HELPS TO PREVENT THE MOTOR FROM OVERHEATING.





Uses of iHome 21 Pc Deluxe Bullet Blender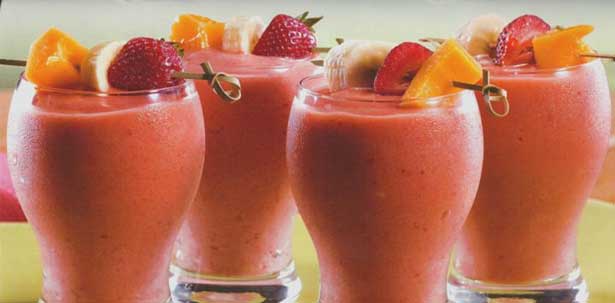 Recipes
 
SalsaSkip the jarred stuff and get the party started with fresh homemade salsa. With tomatoes, onion and a touch of jalapeno, this tasty dip brings zest to any fiesta!Ingredients:
1-2 boiler onions, or 1/4 medium white onion
2-3 small slices of fresh jalapeno
8-10 cherry tomatoes or 1 tomato, quartered
1 clove garlic
Juice of 1/2 lemon or lime
Salt and pepper to taste
Sprigs of cilantro to taste (optional)


Directions:Add all ingredients to the Tall Cup, twist on Cross Blade and pulse 4-6 times on the Power Base until ingredients are mixed, but still chunky.Remove blade and pour into a serving dish. Don't worry if the salsa looks foamy; it will settle in a minute or two. This recipe makes a thin salsa, but feel free to strain off any liquid if you prefer a thicker consistency.



GuacamoleAvocados have enjoyed a huge surge in popularity in the last decade. One bite of this heavenly guac and you'll understand why! Serve with crispy tortilla chips or fresh veggies for a delicious dip, or spread on top of crispy toast for a breakfast, lunch or dinnertime delight.Ingredients:
2 avocados
Juice of 1 small lime or 1/2 large lime
1/4 tsp salt
1-2 cloves garlic (optional)
1 boiler onion or 1/4 medium white onion
1-2 sprigs fresh cilantro (optional)
4 cherry tomatoes (optional)
2 slices jalapeno pepper (optional)


Directions:Cut avocados in half lengthwise, circling the pit with your knife.Twist to separate halves and remove the pits of each.Scoop the flesh out of the avocados and into the Tall Cup.Add all desired remaining ingredients, twist on Cross Blade, and pulse on the Power Base until mixture reaches the consistency you like.

BruschettaWith its bright colors and equally vibrant flavor, fresh bruschetta makes a welcome addition to any appetizer spread.Ingredients:
1/2 baguette, sliced into 1/4-inch rounds and brushed with olive oil
1 1/2 cups cubed roma tomatoes
3 Tbsp thinly sliced fresh basil leaf
1 clove garlic
1 Tbsp extra-virgin olive oil
1 Tbsp balsamic vinegar
1/4 tsp salt
1/4 tsp fresh ground pepper



Directions:Preheat oven to 450°F.Place baguette oil side-down on a baking sheet and toast for 5-10 minutes until lightly browned.Add tomatoes, basil, garlic, olive oil, vinegar, salt, and pepper to the Tall Cup.Twist on the Cross Blade and Divide mixture and spread onto the oiled side of toasted baguette rounds.



Angel EggsThis version of deviled eggs swaps mayo for Greek yogurt, giving you all the flavor and fun of the classic party appetizer without the extra bulk.Ingredients:
12 hard-boiled eggs, peeled and sliced in half
1/2 cup 2% Greek yogurt
1/2 tsp kosher salt
2 Tbsp dijon or yellow mustard
1/2 tsp hot sauce (Tabasco, Sriracha, Cholula, etc.) smoked paprika to garnish




Directions:Scoop the yolks from the middle of your halved eggs into the Tall Cup. Set egg whites aside on a large plate or baking sheet.Add Greek yogurt, salt, mustard and hot sauce to the egg yolks, screw on the Cross Blade, and pulse for 10 seconds, until ingredients are evenly mixed.Spoon roughly 1 Tbsp of the yolk mixture into the hole of each halved egg white. Shake paprika over the top, transfer to a serving platter, and serve.




Raspberry SorbetGot a sweet tooth, but worried about overindulging? Try this refreshing fruit sorbet! It's so fast, healthy and easy to make, you just might save room for dessert every night.Ingredients:
1 cup of raspberries
2-3 Tbsp water (or fruit juice, or your favorite liqueur if not serving to the kiddos!)
2 tsp honey, agave nectar, or maple syrup (optional)



Directions:Add ingredients to the Tall Cup and blend until smooth, using shake technique if necessary.Add more or less liquid to reach your desired consistency.Serve in your favorite dessert dish.




Black Bean BrowniesSome days all you want is a dense, chocolaty brownie. This version of the home-baked classic uses black beans and flax meal to make a rich, healthy brownie that hits the sweet spot without the excess fat, sugar or refined carbohydrates.Ingredients:
1 cup canned black beans (rinsed and drained)
1 Tbsp ground flax meal
2 1/2 Tbsp water
1 Tbsp melted coconut or avocado oil
1/3 cup raw cacao powder
1/2 tsp vanilla extract
1 Tbsp coconut sugar
1 Tbsp maple syrup
1/2 tsp baking powder



Directions:Preheat oven to 350°FGrease a small baking dish — may use a tiny loaf pan or mini muffin pan.Combine flax meal and water. Stir and allow to sit and thicken, about 3 minutes.Add beans, oil, cacao, vanilla, sweeteners, baking powder and flax gel in the Tall Cup. Puree until smooth, using shakin' pulse technique or scraping the sides.Pour batter into pan or muffin tin and add desired toppings.Bake in oven for 15 minutes until the top begins to harden and edges start to crisp.Allow to cool before removing from the pan.


Egg SaladMake delicious egg salad in seconds without any slicing or dicing!Ingredients:
2 hard-boiled eggs
1 stalk celery
1 slice of onion
1-2 Tbsp mayonnaise
Pinch of mustard powder (optional)



Directions:Break the celery stalks in half and pull to remove as much of the celery string as possible.Add the ingredients in the order they appear to the Tall Cup and twist on the Cross Blade.Pulse using the quick pulse technique until you reach desired consistency.Spread between toasted bread, or scoop on top of a salad for a quick and filling midday meal.



Turbo Tomato SoupThis savory, homemade soup is sure to become a family favorite. Enjoy on its own, top with sour cream, cheese and chives, or serve alongside grilled cheese for a classic combination.Ingredients:
10-12 cherry tomatoes or 1 regular size
tomato (about a cup)
1 clove garlic
1/2 cup vegetable stock
1/3 cup cream, yogurt or almond milk



Directions:Add tomato, garlic, cream/yogurt/almond milk and vegetable stock to the Tall Cup.Twist on the Cross Blade and blend into a smooth soup-like consistency.Remove blade and microwave soup in a microwave-safe bowl for 1½ minutes, or heat on medium on the stove in a small saucepan for 5 minutes.




Berry Protein SmoothieWhether you are looking for a healthy breakfast on the go or a weight loss meal replacement, a high protein smoothie makes a convenient, satisfying option.Ingredients:
1/2 cup milk of choice (organic dairy or soy, almond, coconut, etc.)
1/2 cup fresh or frozen blueberries
1/2 cup ice cubes
1/2 medium banana
1 serving high quality protein powder (chocolate or vanilla)
1 Tbsp almond, cashew or peanut butter (optional)



Directions:Fill the Tall Cup or Party Mug halfway with ice.Add the remaining ingredients. Twist on the cross blade and blend until smooth. Serve.



Mango Coconut SmoothieGet a taste of paradise with this tropical fruit-infused smoothie!Ingredients:
1/2 cup mango
1 banana
1 cup ice
1/2 cup coconut water


Directions:Fill the Tall Cup or Party Mug halfway with ice.Add the remaining ingredients. Twist on the cross blade and blend until smooth. Serve.



 Ingredients:
Raspberries
Strawberries
Acai
Almond milk
Goji berries
Pumpkin seeds
Sunflower seeds
Sesame seeds


Directions:Add raspberries, strawberries, acai and almond milk together in Bullet blender and blend.Top with goji berries, pumpkin seeds, sunflower seeds and seasame seeds.
---
We Also Recommend
---